Referral Program-Affiliate FAQs
Thank you for participating in our Referral Partner program. We really appreciate you helping us spread the word to your community, your friends, and your family. Together we can empower even more children around the world!
As a reminder, the purpose of the Referral Partner program is to share Adventures in Wisdom with people you know by posting within your own social media or by sharing in an email/newsletter, etc. that you send to your own list.
1. How do I get my username and password?
Your username and password were sent in your welcome email. You can also get it by visiting https://wisdom.infusionsoft.com/Affiliate (Affiliate must have a capital "A"). and selecting "Forgot your password". If neither of those works, contact us at [email protected]
Tips:  Infusionsoft is now called "Keap", so don't be surprised to see the Keap logo. Also when you log in, you will use the "Referral Partner Sign-in" link under the main login form and blue button. (See image below)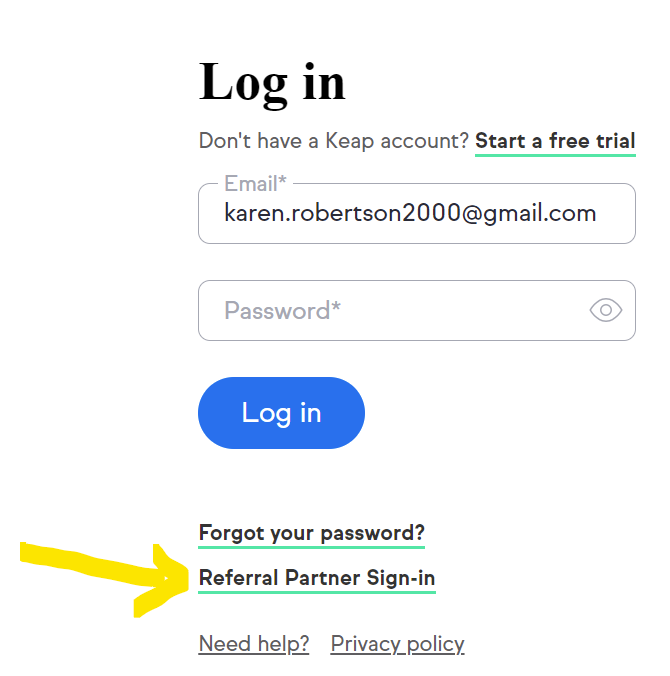 2. What are the commission details?*
We pay a 10% commission on Adventures in Wisdom™ information products.
We pay a 5% commission when someone you refer to us enrolls as a WISDOM Coach.
* Note that this commission structure can change at any time. Changes will be posted on this webpage.
3. How are commissions paid?
Commissions are paid out via PAYPAL only (PayPal accounts are free and can be set up anywhere in the word). We are not set up to send checks or make bank transfers.
If you are not able to receive payments via PayPal, you will not be eligible to participate in this Referral Partner program. Of course we would still appreciate your referrals even if you are not part of the Referral Partner program and you would not need to use an affiliate link.
4. How often will I receive a commission payment?
Commission are paid out via PAYPAL and are made on the 20th of each month after commissions have been earned. Note that commissions for people who enroll in the WISDOM Coach Certification program are eligible 60 days after their enrollment if they paid-in-full OR after their payment plan has been completed if they chose a payment plan option (i.e. if someone chooses a 4-payment plan then commissions will be eligible after that payment plan is complete).
Note that commissions are paid after the total amount earned by the referral partner is at $50 or more. Commissions will carry over multiple months so you will not "lose" a commission over time.
If you choose to discontinue with the program, we will pay you the balance that you have earned. Also, referral partner commissions are made after the client has paid in full (i.e. if the new client chooses to pay via a payment plan, the referral partner commission will be paid after the payment plan is complete).
5. Can I purchase Facebook Ads or other ads to market Adventures in Wisdom?
The purpose of a referral program is to refer Adventures in Wisdom to people you know within your own community. As a result, you may NOT advertise Adventures in Wisdom products or programs outside of emails/newsletters sent to your own list, or postings on your own private or business Facebook page, or social media.
6. How often do I need to communicate with my community?
That is really up to you. We will send you an email about once each month as part of the Referral Partner program, but you can post or email your community any time you want to.
The emails we send to you will include free offers/events and occasionally, offers for purchase. The free offers/events are designed to assign the referral to you and to enable us to start providing value to those who sign up right away.
7. What happens if I referred someone but they didn't use my link?
This is a challenging question because we want to be fair to our referral partners and we must be able to effectively administer the program. As a result, to receive compensation on a referral, it is a requirement that you use your affiliate link when referring others to Adventures in Wisdom.
Because of the size of our community, the number of applications we process, and the automation of our Referral Partner-Affiliate system, we are not in a position to process referrals manually or "after the fact".
If this will be a challenge for you or you are not in agreement, please do not apply. 
8. Can I earn a commission on my own purchases?
The purpose of the Referral Partner program is to thank you for referring new clients to us. Referral Partners will not receive a commission on their own purchases.
9. What programs can I receive a referral partner commission on?
We are currently paying commissions on the initial enrollment fee for our WISDOM Coach Certification Program.
Note: if we decide to promote other Adventures in Wisdom products, we will notify our referral partners and update this FAQ.
Note: if we decide to resell another company's offerings on our website, we will not pay referral fees on those purchases.
10. How many commissions can I earn per referral?
We pay out commissions on the first purchase that your referral makes. After the purchase is made, the referral then becomes an Adventures in Wisdom client and any additional purchases, renewal fees etc. do not earn a commission.
11. How do you keep track of who sent the referral to Adventures in Wisdom™?
When your referral clicks one of your affiliate links, a cookie is set for 60 days letting us know that you are the referral source. If your referral makes a purchase within the 60-day period, you will get credit for the sale and will earn a commission on that sale.
NOTE: If your referral is already in our database, they will be considered an Adventures in Wisdom contact and commissions are not paid out on those contacts.
 12. How do I get reports?
Is it working? You may be wondering if anyone is clicking through. You can see the number of "click-throughs" by looking at your reports.
Just go to the Adventures in Wisdom Referral Partner-Affiliate Center by using the following URL (Note that the word "Affiliate" must be capitalized):
https://wisdom.infusionsoft.com/Affiliate.
You can log in using your assigned user-id and password (see section on how to get your username and password above if you don't remember yours).
 13. Who can become a Referral Partner?
Referral Partners are accepted by application.
Strong referral partners are people who want to support the empowerment of our children through mindset skill development!
This is for you if:
Your audience is educators, counselors/therapists, life coaches, or other professionals who work with children (please email [email protected] if you would like to explore a more strategic joint-marketing effort)
Your audience is business owners, entrepreneurs, or people looking to have their own business
You're in the personal development field and you want to support kids in learning these skills at a much younger age (seed your market!).
You're a life coach and want to help your adult clients bring personal development and life coaching concepts to their kids.
You're in the field of supporting parents as a parent coach, educator, workshop leader, etc. and our work compliments the work you do
You're a parent, grandparent, or mentor and want to earn some extra income while helping your friends and family empower their kids.
You work with a non-profit or PTA organization and want to raise funds for your organization.
 14. How can I get help?
We have a Referral Partner Training Center where you'll find short, how-to videos here. 
If you can't find your answer there, you can contact us at support at adventuresinwisdom dot com.