The Adventures in Wisdom®
Life Coaching Program for Kids Curriculum
"Home Study" and "Business Use" available
(See Table Below)
With this program, you'll help children develop a mindset for happiness, confidence, and success in their lives. 
We all want our kids to be happy and to walk in the world with their head held high – the question is, how we help them get that?
It doesn't matter how much we love our children, we can't give them self-esteem, self-confidence, or success in life. But what we can do is help them to develop it in themselves!
The Adventures in Wisdom Life Coaching Program for Kids™ is a fun, story-based program that gives step-by-step tools for helping kids develop powerful mindset skills to handle the ups and downs of growing up; to think for themselves and make good decisions; and to go for their dreams and make them happen.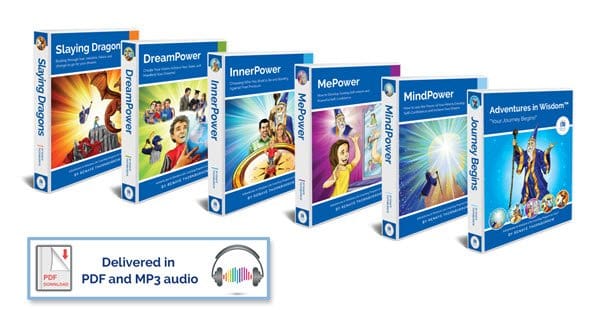 Do you want to use the program
at home or in your business?
Use the table to determine which program is best for you!
Adventures in Wisdom Life Coaching Program For Kids
(Home Study versus WISDOM Coach Certification)
| | Home Study | Wisdom Coach Certification |
| --- | --- | --- |
| Adventures in Wisdom Life Coaching Programs for Kids Curriculum | ✓ | ✓ |
| Licensed to use the Adventures in Wisdom Curriculum and coaching materials in business/ non-profit/ volunteer setting | | ✓ |
| Business Accelerator Curriculum and Action Plans (quick start your business) | | ✓ |
| Articles - Use in your marketing (blog/newsletter) | | ✓ |
| WISDOM Coach Facebook Group - Network with other WISDOM Coaches from around the world! | | ✓ |
| Coaching Package Templates - Guidelines to help you design your services | | ✓ |
| Q&A Calls Ask questions about marketing, coaching and more! | | ✓ |
| WISDOM Coach Logo | | ✓ |
| WISDOM Slides for each skill book | | ✓ |
| WISDOM take home sheets - Help kids continue the conversation at home! | | ✓ |
| WISDOM Tools - Additional activities you can use with kids! We're adding to the curriculum | | ✓ |
| Listing on the www.adventuresinwisdom.com website - Parents can find you from our website | | ✓ |