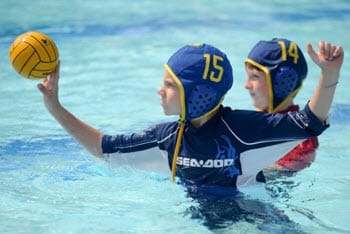 When 12-year old Jordon was dropped from the top water polo team, his confidence dropped as well. Although he continued playing water polo, his mom could see that he was doubting himself and not playing to the best of his ability.
Wanting to help her son, Jordon's mom reached out to WISDOM Coach™ Inna.
Coach Inna was launching a week-long life coaching for kids workshop on "MindPower" ─ based on the The Adventures in Wisdom Life Coaching Program for Kids™ Curriculum. The workshop would teach five mindset skills to help children learn how to use the power of their thoughts to overcome self-doubt and to believe in themselves.
The Aha! Moment
Jordan's mom had this to share about her son's experience:
"The workshop began on a Monday, and our son was booked into water polo camp for Tuesday, Wednesday, and Thursday evening the same week as the workshop.
At the start of water polo camp, Jordon was apprehensive. But then he had an 'aha moment' at poolside.
The Monday session taught him about limiting beliefs. While standing by the pool, he realized why he wasn't giving everything he had in the pool. After being dropped from the top water polo team, he had developed a belief that he wasn't good enough, and this limiting belief was impacting his performance.
At that moment, he changed his thinking, his belief in himself, and hopped into the pool with the attitude of, 'I am great at water polo and I will show them how good I really am!'
The impact of the aha moment was immediate. I saw his confidence return.
The head coach noticed it as well. Jordon was chosen by the coach to demonstrate every new task for the entire three days. This really boosted his confidence because the boys in the camp ranged in age from 12 to 16 and Jordan was one of the youngest players at the camp.
I am thrilled to see my son believing in himself again. I know that he will be able to be the best him that he can be. Thank you, Inna!"
After completing the workshop, Jordon said he felt "ready to take on the world" and thanked his mom for signing him up.
Great job Coach Inna!
*** The end ***
Adventure well, my friend!
Copyright (C) 2011-2017 Adventures in Wisdom, Inc. All Rights Reserved.