Unique and Timely Training for Coaches
Life Coaching for Kids
1 ICF CCE (Core Competency)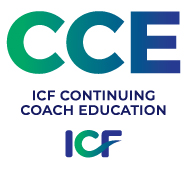 Adventures in Wisdom® is an ICF CCE Provider
Since 2013 we've helped hundreds of coaches in over 30 countries
expand their services to coaching children!
Why your coaches will value this training
This training is ideal for coaches who have children, who have clients who have children, or who care about children.  They will leave the training with coaching tools they can use immediately with the children in their lives (and they work for grownups too).
They will learn: 
How coaching children is different from coaching adults

How coaches use stories to evoke awareness and cultivate learning and growth with children – helping them become who they were meant to be in the world

3 skills (and coaching activities) they can use immediately with the children in their lives
Live Attendees Earn 1 ICF CCE (Core Competency)
---
About the 1-hour Professional Development Training
Title:  "Life Coaching Isn't Just for Grownups – Three Skills Every Child Should Learn Before the Age of 10"
Description:
When faced with challenges or disappointments, most kids don't have the tools to handle them. As a result, they often get down on themselves or give up on themselves – developing belief systems that can hold them back for the rest of their lives. As coaches, we've seen the impact of childhood events on adult clients over-and-over again!
Coaching isn't just for grownups. It's a game changer for our youth when they learn how to break through limiting beliefs and proactively create supportive beliefs to help them thrive. Life coaching can help kids learn how to use the power of their thoughts to handle the ups and downs of growing up and to develop a mindset for creating happiness, confidence, and success in life.
In this session coaches will learn about three mindset skills that all kids should learn before the age of 10 and how they can use stories and activities to coach kids (the skills work for grownup clients too).
Four learning objectives:
Why life coaching is critical for our youth and how coaching children is different from coaching adults

Three traps that crush self-esteem and mindset skills that can help kids beat those traps

Activities you can use immediately to help children practice these mindset skills

How you can use coaching stories to evoke awareness, learning, and action in children
IMPORTANT: Please note that this 1-hour training is a TRAINING, not an offer for our services. 
Attendees can learn more about our services on their own if they are interested.
Click here to download details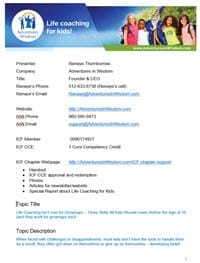 Presented by: Renaye Thornborrow Bio & Picture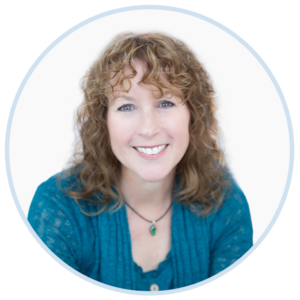 Renaye Thornborrow is the founder and CEO of Adventures in Wisdom, author of The Adventures in Wisdom Life Coaching Program for Kids Curriculum, and leader of a worldwide movement to empower kids.
Her company's WISDOM Coach® Certification program is helping professionals in over 30 countries use coaching stories and activities to bring life coaching and personal development to kids ages 6-12.
Renaye is a personal development expert, member of the International Coaches Federation, and former 3-year board member for the Association of Coach Training Organizations (ACTO). She is also a retired corporate marketing executive and holds a Bachelor of Science from Texas A&M University and an MBA from the University of Texas. She and her husband of 32 years are the proud parents of 20-year old twins – a son and a daughter.
Presenter:               Renaye Thornborrow
Company:               Adventures in Wisdom 
Title:                        Founder & CEO
Renaye's Phone:    512-633-8738 (Renaye's cell)
Renaye's Email:      [email protected]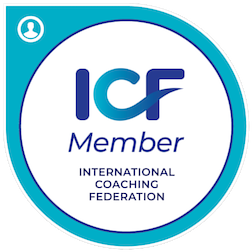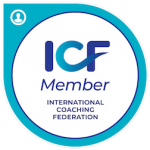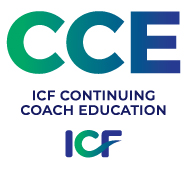 We make it easy to bring this training to your community
We provide everything you need to bring this training to your community.   
Here's how it works: 
You get sample invitation email and newsletter messaging

We manage the webinar technology (webinars held via Zoom)

We manage the CCE distribution
Excerpts from Jack Canfield's Interview of Renaye Thornborrow
" That is so valuable because we're not learning that in school…
I'm sitting here thinking I need to tell every trainer I've ever trained, which is about 4000 of them, go get trained by you. Add this to their tool bag….
I was one of the founders of the National Council for Self-Esteem way back when. And the work you're doing is so far beyond what anyone was doing…I feel grateful that you're doing the work you're doing. It's really, really important….
If you have children, if you have grandchildren, if you're a teacher, if you're a coach, if you're anyone working with children or care about children, I'm sitting here. And I don't say this very often. I highly recommend what you're doing. It is so valuable, and it's so complete. That's what I love about it and, obviously, really effective."
Excerpts from Peter J Reding Interview of Renaye Thornborrow
"As a visionary in coaching I know you see a world where it doesn't have to be the way it is now….
Imagine the world where the conditioning we talk about in adult Life coaching is actually a positive conditioning,…children can negotiate who they are, what they want.…
You are doing life changing work [for children] – If I can [shift my thinking] when I'm 10- years-old around my sleep, I can do it when I'm 18-years-old and getting ready for exams or when I'm 25-years-old when I'm in my first major position…I can choose thoughts that are more beneficial – that help me change my attitude…It's just brilliant. Wow! Wow, wow, wow!"
What I love about this is that it's deep transformational work….You're teaching [children] how to Learn, how to think, how to resolve issues that are going on in their lives for themselves….
You're doing a lot of right for the world…l thank you for your energy, your passion, and your offering to the world….I highly recommend that those of you who have any inclination of working with kids to please call Renaye….she is passionate and there to support you."
Testimonials from ICF LA Chapter Training
"We recently had a solid tele-class with the Los Angeles Chapter of the International Coaching Federation, entitled "Life Coaching Isn't Just for Grownups". How true is the name of that event. Renaye shared powerful tools for coaching kids, which really are useful and relate to adults too. If you want to learn more about coaching kids, Renaye is your "GO TO" person on this topic."
– Barry Bettman, PCC
"Really loved the exercises [Renaye] introduced. Found the whole thing fascinating and enriching. It certainly made me see what is possible for our world if more kids had this type of coaching (and parenting) in their lives."
-Tara
"I loved it! Very well organized and smart concepts. Even though this [training] was geared toward coaching kids, I can also see how to apply this to adults…One of my favorite trainings."
– ICFLA attendee
"Wow! So much. The power of story the traps and tools for helping kids create awareness and learn to separate events from who they are…. Taking adult ideas and making them so accessible for younger kids is brilliant. I have 6-year-old twins so super helpful. One of the most valuable ICF trainings. Thank you!"
– Mary Allen
"Finally, a bold leader in a coaching specialty the planet needs SO much – life coaching for kids!
Renaye is the real deal, providing wisdom and teaching for kids and parents that is road-tested and makes a tangible difference quickly, while having fun. And because it's so innovative, it changes the game for any coach wanting to over deliver to their family/children/parent clients.
Thank you Renaye for dedicating your life to making it easier for coaches to find parents to help kids. I highly recommend you every chance I get."
"I was thrilled to interview Renaye Thornborrow as part of my Unboxed Brain Series – a monthly program where I spotlight out-of-the box thinkers who are bringing creative solutions to the world.
She is engaging, creative, generous and knows her stuff. What I love about her innovative approach is that it enables coaches to use stories and engaging activities to bring life coaching to kids.
Her innovative certification program is exactly what the industry, and parents for that matter, need in this arena. My audience loved her and she was fun and easy to work with.
If you get the chance to hear her speak or take part in her programs, do it. You won't be disappointed."
"Renaye Thornborrow recently provided a continuing education program for our group of certified coaches.
Her program for coaching kids serves as a great resource for divorce coaches because either parents need something to help them to focus on the children during divorce AND divorce coaches can benefit from adding coaching for children to their services.
Renaye is very engaging, has a gracious and direct manner and is so innovative in her approach to coaching children through stories.
I wish I were a kid again because I could have benefited greatly from having a coach when my self-esteem hit the skids after the death of my mother at the tender age of eight."
Why You Can Trust Adventures in Wisdom 
Since 2013 we have offered a coaching specialty that enables coaches to extend their services to include life coaching for kids.  Over 800 coaches across more than 30 countries have trusted us to help them do their work in the word – empowering children to be who they were meant to be in the world. 
We have been an ICF CCE provider since 2014 and have trained many hundreds of coaches in our 1-hour CCE program (delivered to ICF chapters, coach training organizations, ICF members, and the public) and over 800 coaches in our 18-hour ICF CCE (resource development) life coaching for kids program.
We are very respectful of coach training organization's communities and do not automatically add attendees to our email list or market to them unless they individually opt in for our information on our website.
Our founder, Renaye Thornborrow, has been a member of of ICF since 2012 and a member of the Association of Coach Training Organizations (ACTO) since 2014.  She is a former 3-year board member of ACTO. 
Website:                https://AdventuresInWisdom.com
AIW Phone:          512-222-6659
AIW Email:            [email protected]
ICF Member:        0090174921
---
Contact Us to Learn More or Schedule
Please either complete the form or email us at [email protected]