With the Adventures in Wisdom Life Coaching Program for Kids story-based curriculum, you help children develop mindset skills for happiness, confidence, and success in their lives.
We all want our kids to be happy and to walk in the world with their head held high – the question is, how we help them get that?
It doesn't matter how much we love our children, we can't give them self-esteem, self-confidence, or success in life. But what we can do is help them to develop it in themselves!
With Adventures in Wisdom you help children develop mindset skills to own their magnificence, go for it in life, and reach their fullest potential – all through the power of coaching stories.
Whether you are a parent who wants to use our stories your own children or you're someone who has a passion for children and want to create a business you love as a life coach for kids, we're here to help!
Teach children 27 powerful mindset skills with our turn-key, WISDOM System Coaching Process that is fun and engaging to use with children and gets results fast!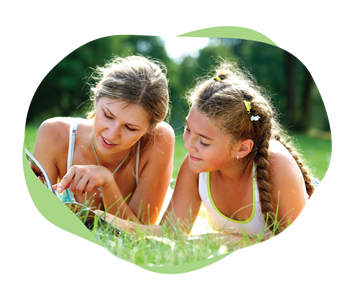 Getting Started is as Easy as 1-2-3!
Jack Canfield Endorses Adventures in Wisdom's Life Coaching for Kids Program
Certifying WISDOM Coaches since 2013
WISDOM Coaches in over 30 Countries
Use our Coaching Stories to Life Coach Kids!
In case you missed it...
Test out a sample coaching story at home. (Comes straight from our curriculum for coaching kids)

By submitting, I agree to the privacy policy and understand I will receive occasional emails from Adventures in Wisdom and can opt out at any time.
Coaching Certification Provides Additional Credibility
"Finding Adventures in Wisdom™ has been a blessing to my business. I met Renaye as I was launching my business and was looking for a mindset curriculum for elementary age girls.
What I found in Adventures in Wisdom was the total package – comprehensive curriculum, activities, marketing materials and coach certification all rolled into one high quality program.
It has made launching my classes and workshops much easier and faster than doing it (creating curriculum) all on my own. Plus, the coaching certification provides additional credibility that parents and school administrators love
I highly recommend becoming an certified WISDOM Coach™ to anyone who wants to empower children or teach Adventures in Wisdom. It is by far the best program of its kind."
Empowering children to feel great about themselves and achieve their goals!
"The WISDOM Coach Program will prepare you for a wonderful opportunity to provide life-coaching for children. The program is fun and hands-on.
As you do this meaningful work with children, you will touch the lives of them (and their families) in powerful ways and provide them with the tools they need to experience success in all areas of their lives.
The coaching program speaks to today's generation of kids. The content is simple and stretches children's thinking in a good way.
Children easily "see" themselves in the characters of the stories, and learn constructive ways to solve problems that they encounter each day.
When children learn these skills, they feel better about themselves and others, and when they feel good, they achieve their goals and their dreams!"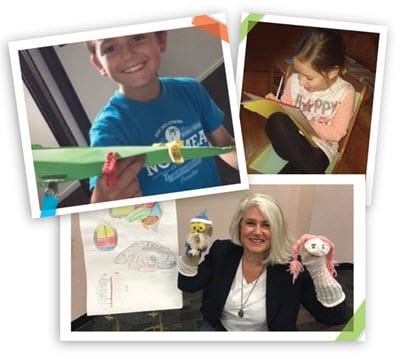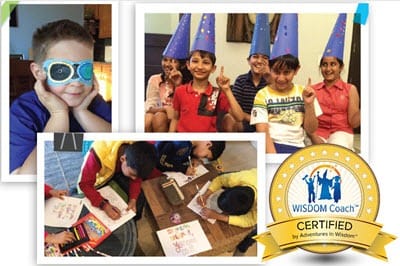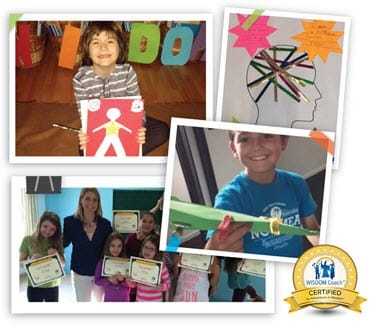 Bringing conversation and common vocabulary to our family!
"Adventures in Wisdom has brought connection, conversation, and common vocabulary to our family. I listen to the stories with my seven and three year old on the way to school, and although they pick up on differing levels, they both enjoy the stories.
My seven year old often uses the stories as a springboard for describing situations he faces that he had not previously raised with me, and we work through them together using the story as a framework. My three year old takes in more than I thought she would, and we are successfully integrating some key terms and big themes from the program in our household vernacular.
I am grateful to have found the program so early and to journey with my growing wise wizards, learning at our own level all along the way."
Helped me fulfill my purpose of helping kids after I retired from teaching
"The Adventures in Wisdom program has provided me with the ability to live my passion of helping children and live my dream after retiring as a teacher.
If that wasn't enough, AIW has also connected me to a global community of like minded people / coaches changing our world one child at a time. Upon retiring, I soon knew I needed a curriculum that would fulfill a more complete and rounded program that would go the distance. I started researching and found Adventures in Wisdom.
The Adventures in Wisdom is an exceptional in depth life – coaching program complete with proactive skills – 27 in all, that come to life through stories and activities; empowering kids from their early years into their teens and empowers its coaches with continued support, training, and a community that expresses a global goal to ensure the children of the world are empowered personally and globally!
Once you start going through the AIW program, you immediately realize how life changing it is; not only for the children you will coach, but on a personal level."