Adventures in Wisdom®
Referral Partner-Affiliate Program
Adventure in Wisdom® is all about teaching kids how to use the power of their mind and the power of their thoughts to learn how to feel good about themselves and believe in themselves even when things don't go their way, to think for themselves and make good decisions, to handle the ups and downs of growing up, and to go for their dreams and make them happen.
Since 2013
We've Certified Coaches in Over 30 Countries
to Bring Life Coaching to Kids!
1.WISDOM Coach™ Certification Program
Our certified WISDOM Coaches use The Adventures in Wisdom Life Coaching Program for Kids™ Curriculum to bring life coaching and personal development to kids!If you know someone who works with kids or wants to work with kids, becoming a WISDOM Coach is a great way to jump start a fulfilling business empowering kids.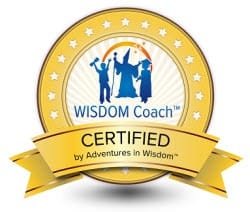 Q2: What is a referral partner?
A referral partner is someone who helps spread the word about Adventures in Wisdom® and receives a "thank you" bonus if someone they send to us makes a purchase. You can think of it as a paid referral program.
You see, we would rather pay a "thank you bonus" to friends and colleagues who help us spread the word about empowering kids than to pay a lot of money towards advertising.
Therefore, we offer an opportunity for you to earn a commission on any sale coming from people that you refer to us! It's a great way to provide additional value to your community, support a company that is in alignment with your values, and add extra income as well.
You will also see the term "affiliate" used for a referral partner. "Referral partner" and "affiliate" are the same thing.
Q3: How does the program work?
Throughout the year, we will tell you about what we're doing – whether it's a free training program, a special promotion, etc. If it is something you want to support, you tell your community about it using the custom link that we send to you.
When someone that you referred to our site completes a form or makes a purchase, you will be assigned as the person who referred them.
We will also provide you with sample email copy, social media posts, an ezine blurb, etc…so we make it really easy for you.
You promote as much or as little as you want to – when someone that you referred to us makes a purchase, we send you a "thank you" bonus.
Q4: What are the commission details?  
We pay a 5% commission when someone you refer to us enrolls as a WISDOM Coach. 
We have a special "Event" commission program when you host us for a Webinar or interview Renaye. We have two webinar options:

"Life Coaching Isn't Just for Grownups" – ICF 1 Hour Core Competency training (no offer is made during this training).
"How You Can Become a Life Coach for Kids" 

Email [email protected] to learn more about "Event" opportunities.  
There is no cost or obligation as a referral partner.
If you decide this program isn't for you, just notify Adventures in Wisdom® at [email protected] and we will remove you from our affiliate list and pay out any outstanding commissions.
Q5: How do I market Adventures in Wisdom® to my community?
We make it EASY EASY EASY for you to spread the good news about Adventures in Wisdom® to your community.
Once you've been accepted as a referral partner, you will receive your own affiliate link to use when communicating to your list or community. When one of your referrals clicks on your affiliate link and either completes a form or makes a purchase, they will automatically be assigned to you.
We will also send you a link to our Referral Partner-Affiliate Resource Center Web Page. Here you will have access to sample email messages and social media posts. Simply add your personal message, ensure your affiliate link is working, and share it with your community. You can create your own messages as well.
Q6: How often do I need to communicate with my community?
That is really up to you. We will send you an email about once each month as part of the Referral Partner program, but you can post or email your community any time you want to.
The emails we send to you will include free offers/events and occasionally offers for purchase. The free offers are designed to assign the referral to you and to enable us to start providing value to those who sign up right away.
There is VERY little for you to have to do. Just introduce us to your community by forwarding the emails and posting to your social media sites.  We'll take care of the rest!
Q7: How do you keep track of who sent the referral to Adventures in Wisdom?
We track referrals for new leads.
When you refer someone to us, and they are not currently on our list, that referral is assigned to you for 60 days.
If your referral makes a purchase within those 60 days, you will get credit for the sale and will earn a commission on that sale.
Q8: How often will I receive a commission payment?
Commission are paid out via PAYPAL and are made on the 20th of each month after commissions have been earned. Note that commissions for people who enroll in the WISDOM Coach Certification program are eligible 60 days after their enrollment if they paid-in-full OR after their payment plan has been completed if they chose a payment plan option (i.e. if someone chooses a 4-payment plan then commissions will be eligible after that payment plan is complete).
Note that commissions are paid after the total amount earned by the referral partner is at $50 or more. Commissions will carry over multiple months so you will not "lose" a commission over time.
If you choose to discontinue with the program, we will pay you the balance that you have earned. Also, referral partner commissions are made after the client has paid in full (i.e. if the new client chooses to pay via a payment plan, the referral partner commission will be paid after the payment plan is complete).
Important: You must have PayPal set up in order to receive commissions from Adventures in Wisdom. We are not set up to send checks or make bank transfers.
Q10: Who is this Referral Partner program for?
This program is designed for people who want to empower kids and empower parents.
This program is for you if…
You want to support your followers/community in empowering their kids, while earning extra income as well.
You're in the personal development field and you want to support kids in learning these skills at a much younger age (seed your market!).
You're a life coach and want to help your adult clients bring personal development and life coaching concepts to their kids.
You're in the field of supporting parents as a parent coach, educator, workshop leader, etc. and our work compliments the work you do (there may be opportunities for us to work together as well).
You're a parent, grandparent, or mentor and want to earn some extra income while helping your friends and family empower their kids.
How To Sign up: Referral Partners are accepted by application. Apply using the form below.
Q11: What do I get?
To make it EASY EASY EASY for you, we have put together The Adventures in Wisdom Referral Partner-Affiliate Resource Center. Here you will find sample emails, social media posts, ezine/newsletter blurbs, etc.
You will also receive periodic email messages from us that you can personalize and forward to your people. It already has your affiliate link in it! It doesn't get any easier than that.
Commission as described above.
How do I get started?
Step 1: Just review the T&Cs by clicking on the link below. Click here to review the Terms and Conditions (that's all the legal stuff)   Step 2: Once you have reviewed and agree to the Terms and Conditions, complete the form below and you're ready to get started!
IMPORTANT:
The purpose of the Referral Partner program is to thank you for referring new leads/clients to us. Referral partners will not receive a commission on their own purchases.

The purpose of the Referral Partner program is to refer people to us that you have a personal connection with. As a result, referral partners are restricted from running ads or PPC type of activity that drive traffic to us that the referral partner does not know personally or through their own list/social media connection.
Note that the purpose of this Referral Partner program is to bring new leads to Adventures in Wisdom. If the prospect is already on our list, they will not be reassigned to you.

Note that Affiliate Links are active for 60 days.

  If your referral does not purchase within a 60-day period, the link will expire.
Commissions are paid on the first sale that a new client purchases only.
Contractors/Employees of Adventures in Wisdom and their family members are not eligible for the Referral Partner program.

You can check your lead status and sales at any time using the Infusionsoft/Keap Referral Partner Center – details will be sent after you sign up.

Also note that we really appreciate your referrals and want to make sure we compensate you when you refer someone to us.

In order to make that happen, you MUST use your affiliate links when referring others to us – the system is automated and it is the ONLY WAY that the system can assign a new contact to you. Because of the number of affiliates we have and volume of applications we process, we cannot process referrals manually or after-the-fact. If you think that using your affiliate link will be a problem, please do not submit an application.

So are you ready to get started? Just complete the form and you're on your way. If you have any questions, feel free to contact us at [email protected].
We look forward to working with you!
Renaye & the Adventures in Wisdom Team
P.S. And if you think you'd like to use our curriculum in your practice and become a Certified WISDOM Coach™, you will enjoy and even higher affiliate commission! You can learn more about our WISDOM Coach™ Certification Program by clicking here!