In time for Mental Health Month this May 2023, Adventures in Wisdom Inc. has released an Infographic that shows how Child Life Coaching and Counseling both support children's mental health.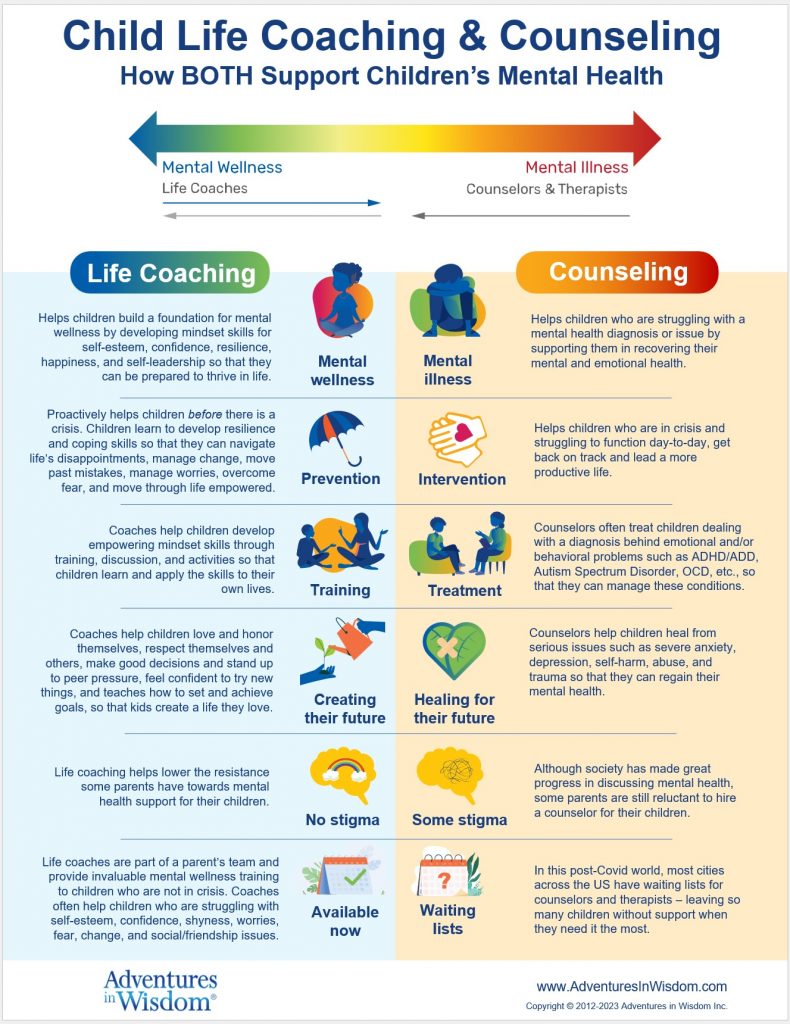 At a time when children's mental health is worsening and counseling waiting lists are longer than ever, now is the time to understand the roles that child life coaching and counseling each play in supporting children's mental health.
The "Child Life Coaching & Counseling – How BOTH Support Children's Mental Health" infographic is available here for download now.
In US Surgeon General, Dr. Vivek Murthy's panel discussion "The Kids are not Alright – the Decline of Mental Health Among Youth" presented at the American Psychological Association 2022 conference, Dr. Murthy declared that mental health is his primary focus "because if we don't rebuild this foundation for wellness in America, we aren't going to do as well as a country…"
Dr. Murthy added, "How our kids do in school is informed, guided, and empowered by their mental health and wellbeing."
Dr. Murthy also discussed the struggle that parents across the country are having with getting help. He said, "I think one of the hardest things as parents is to see your child struggling and to not know what to do about it…They can't get appointments to see mental health providers, even when they do get an appointment, it's 6, 7, 8 months away… I just can't think of any pain that's worse for a parent than to see your child struggling and to feel like they can't get them the help they need."
"Parents need to know that there are resources to support their children across the mental health continuum," said Renaye Thornborrow, founder of Adventures in Wisdom, a company that has certified hundreds of child life coaches in over 30 countries since 2013.
"Life coaching for kids is part of the mental health solution that many people aren't aware of, sitting within mental wellness on the continuum. Life coaches help kids develop mindset skills for resilience, self-esteem, confidence, self-leadership, achievement, and happiness so that kids can manage the ups and downs of growing up and thrive in life," she adds.
The purpose of the infographic is to help people understand how child life coaching and counseling each support child mental health in different ways, and where they sit within the mental health continuum.
Read multiple success stories and download the infographic from this page now.
1. Want to be a Life Coach for Kids?
You can create impact and income – working part time or full time – as a certified WISDOM Coach®.
You can get certified to use the Adventures in Wisdom Life Coaching for Kids Curriculum, where you'll use fun coaching stories, activities and a proven STORY Coaching process to teach mindset skills and life coach kids.
WISDOM Coaches use coaching stories and activities to help children develop mindset skills for confidence, resilience, self-esteem, self-leadership, and achievement so that they can be confident and prepared to handle the ups and downs of growing up, reach their fullest potential, and thrive.
To see what it's all about and learn how you can create a business you love as a life coach for kids, simply click below. You'll find everything you need to know, including how to apply and save.
2. Want to Find a WISDOM Coach for Your Child?
Simple click below to: 
Use the "Connect with a Coach" form or
Search the WISDOM Coach® Directory
*** The end ***
Adventure well, my friend!
Copyright (C) 2011-2023 Adventures in Wisdom, Inc. All Rights Reserved.