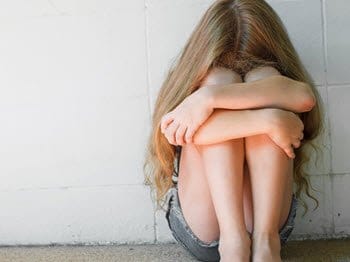 When a child struggles with anxiety, it affects the whole family. And this was the case with 7-year-old G.
When her mother reached out to WISDOM Coach® Sharon, her daughter had already worked with a few specialists.
WISDOM Coach® Sharon shares how she helped G in this video.
What G's Mother Had to Say
The Situation – as told by G's Mother  
"My daughter was suffering a really extreme anxiety to the point that everyday tasks like just going down the street or going out for dinner were non-existent. It was hard on myself, [because I was] working two jobs at the time. I couldn't be away from her longer than maybe two to three hours, and then she would start lashing out and just wanting her mum."
The Solution – as told by WISDOM Coach® Sharon
This mother learned about WISDOM Coach® Sharon and asked Sharon to work with her daughter, G who was seven years old at the time.
When G sat down with Coach Sharon for the first time, Sharon observed that, "It was obvious she'd been through this before because she rattled off everything that was wrong with her and what she was going through."
WISDOM Coach® Sharon's response was, "We're going to change the way you think about these things. We don't have to re-hash things. You can look at how you think about them."
Sharon worked with her step-by-step to build her confidence.
They started with a 6-week, 6- session program starting with MindPower – learning how your brain works – because it forms the basis of everything else.
Coach Sharon says, "She (G) was just so keen to tackle the next thing and get through what she has been going through."
One victory built on the next, built on the next and her confidence grew.
Be sure to watch the video to learn more about the skills G learned.
The Result – as told G's Mother
"Sharon helped G feel more safe within herself….We went from not being able to go grocery shopping or out to dinner, to her wanting to go out to dinner every night. She's had a week's holiday away from me. School is not as scary as it was. At her lowest point, G would not go to school. She would cling to me at even the thought of going to school. After working with Sharon, she goes off to school. I 100% [believe that] Sharon and her amazing work [is what] got her there. I cannot recommend Sharon highly enough. She saved me from packing up and running away."
And look what happened a couple of years later:
Sharon received an update from G's mum in late 2022. Here's a photo of G as she headed out to school. She was about to give a speech to the whole school as a candidate for school captain.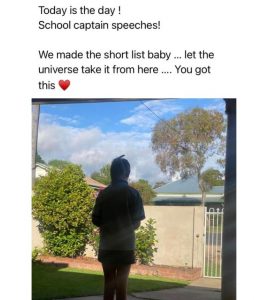 And she won! 
How Kids Can Learn Mindset Skills – and Three Ways You Can Help Them
Self-esteem, self-confidence, good decision making, resilience, and goal setting are all mindset skills that kids can learn for life.
Adventures in Wisdom is leading a worldwide movement to bring mindset skills, personal development and life coaching to kids.  Since 2013, we've certified hundreds of coaches in over 30 countries.
Kids learn 27 mindset skills – by either working with a certified child life coach (WISDOM Coach) or working with their parent in a home study course.
Learn everything you need to know about Life Coaching for Kids here.
1. Want to be a Life Coach for Kids?
You can create impact and income – working part time or full time – as a certified WISDOM Coach®.
You can get certified to use the Adventures in Wisdom Life Coaching for Kids Curriculum, where you'll use fun coaching stories, activities and a proven STORY Coaching process to teach mindset skills and life coach kids.
WISDOM Coaches use coaching stories and activities to help children develop mindset skills for confidence, resilience, self-esteem, self-leadership, and achievement so that they can be confident and prepared to handle the ups and downs of growing up, reach their fullest potential, and thrive.
To see what it's all about and learn how you can create a business you love as a life coach for kids, simply click below. You'll find everything you need to know, including how to apply and save.
2. Want to Find a WISDOM Coach for Your Child?
Simple click below to: 
Use the "Connect with a Coach" form or
Search the WISDOM Coach® Directory
*** The end ***
Adventure well, my friend!
Copyright (C) 2011-2022 Adventures in Wisdom, Inc. All Rights Reserved.