How Life Coaching for Kids Answers the Call for Help
on the Youth Mental Health Crisis
There's no question that 2020 and 2021 have brought significant challenges to children and their families. These challenges have impacted children's mental health to the degree that leading organizations in the U.S. have put out a call for help to assist children across the mental health continuum. Life coaching for kids is part of the mental health solution for children that many people are not aware of. Here's how.
A Call for Help with Youth Mental Health 
On December 8, 2021, the U.S. Surgeon General, Vivek H. Murthy,  released a rare Surgeon General's Advisory warning that, "the challenges today's generation of young people face are unprecedented…. And the effect these challenges have had on their mental health is devastating." In the report, he also states that "in many cases they are treatable, and often preventable…and provides actionable recommendations."  The reports states, "Ensuring healthy children and families will take an all-of-society effort."
This follows an equally rare statement by three U.S. pediatric organizations in October 2021, declaring children's mental health a national emergency. In a joint statement on 10/19/21, the American Academy of Pediatrics (AAP), the American Academy of Child and Adolescent Psychiatry (AACAP) and the Children's Hospital Association (CHA) declared that children's mental health is a national crisis because of the pandemic. They called for "strategies to meet these challenges".
In the statement, the group declared, "We must identify strategies to meet these challenges through innovation and action … to improve the access to and quality of care across the continuum of mental health promotion, prevention, and treatment"
How Life Coaching for Kids Helps with Youth Mental Health 
Life coaching for kids is part of the mental health continuum for children that many people are not aware of. It fits within the prevention and mental wellness part of the continuum. Life coaches teach kids mindset skills and help children develop resilience and coping skills so that they can navigate uncertainty and change in their lives.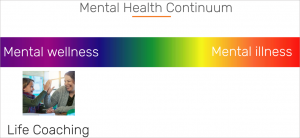 Certified coaches from Adventures in Wisdom have been helping kids navigate the pandemic by teaching mindset skills for managing change, fear, anxiety, uncertainty, and more.
See for Yourself – True Stories of How WISDOM Coaches have helped Kids during the Pandemic  
Adventures in Wisdom recently hosted a panel of five WISDOM Coaches, who shared how they've been helping kids manage the pandemic roller coaster.
These coaches helped kids with challenges like:
Managing anxiety and fear around illness
Feeling angry and powerless
Managing friendship changes due to restrictions at school
Embracing self-responsibility for online learning, and more.
Click here to watch excerpts from the panel interviews.
How You Can Help – Get Certified as a Life Coach for Kids
Kids need your help now more than ever.
You can get certified as a life coach for kids and create a flexible business you love as a WISDOM Coach with Adventures in Wisdom.
Get certified in your own home, on your own time, at your own pace
Work full time or part time
Coach kids in person or online (perfect for you and for kids during these uncertain times)
Watch this overview video to see how.
Find a WISDOM Coach for your Child 
If you'd like to find a certified WISDOM Coach for your child, simply click here and either complete the "Connect with a Coach" form to request proposal from WISDOM Coaches or search the directory and contact coaches directly.
About Adventures in Wisdom  
Adventures in Wisdom has trained coaches since 2013 and has Certified WISDOM Coaches in over 30 countries who are working with children both in person and online.  Most of our coaches have backgrounds in life coaching (for adults), education, or counseling/therapy/social work.
To learn more about working with a children's coach or becoming a coach please visit https://adventuresinwisdom.com/.
Adventure well my friend!
***
Copyright (C) 2011 – 2022 Renaye Thornborrow. All Rights Reserved.