What's the Difference Between "Life Coaching for Kids"
and Parenting?
"Two sisters were struggling. The 10-year-old was a very bright student; however, she was experiencing difficulty in two of her school subjects and losing confidence as a result.Her 5-year-old sister was also struggling with confidence and low self-esteem. She was very withdrawn in class and not participating in group discussions.
Their mother brought them to me because she was struggling to help her girls regain their confidence," shared WISDOM Coach™ Luvashnee Pillay.
The story Luvashnee shares is very common in children. They often "have what it takes", but somewhere along the way, they begin to lose confidence and self-esteem. You may have even seen this in your own child or with a child you know. You may have even experienced it yourself growing up.
This mother was a very engaged mother who wanted to do the best for her children – she just didn't have the skills or the know-how to help her daughters.
A parent's love, advice, guidance, and encouragement are all necessary for children to grow up happy and healthy – but sometimes that is not enough.
Most parents don't have the skills and know-how to help children who are struggling. And when children are facing persistent challenges such as low self-esteem and low self-confidence, it can be difficult for parents to zero in on exactly what the issues are, and to help their children overcome these challenges.
That's where life coaches for kids can help – by becoming part of a parent's "support team" to help their children achieve their goals and thrive in life.
Just like a parent would hire a sports coach to help their child thrive at a sport or a tutor to help their child perform better in math, a parent can hire a "life coach for kids" to support their child who is struggling with common challenges of growing up such as: degrading self-esteem, declining self-confidence, bouncing back from disappointment, dealing with peer pressure, finding direction, and so much more.
As with sports coaches and tutors who help kids develop the skills and knowledge to achieve their goals in sports or academics, a life coach for kids helps children develop the skills and knowledge to shape how they think about themselves, their abilities, their goals, and their dreams.
The skills that life coaches for kids help children develop are called "mindset skills".
These mindset skills are critical because it's the child's mind that is the source of negative thinking patterns that lead to issues such as low self-esteem and low self-confidence, and it's the child's mind that is the source of creating supportive thinking patterns that lead to strong self-esteem and powerful self-confidence.
Mindset Skills = WISDOM
Life Coaches are trained in how to support someone, whether a child or an adult, to get from "where they are" to "where they want to be". At Adventures in Wisdom™, we've developed the WISDOM System for Coaching Kids™ that life coaches around the world are using to help kids develop a mindset for happiness, confidence, and success in life. The system includes our unique, story-based curriculum which teaches kids 27 powerful mindset skills!
"WISDOM" is an acronym for the six areas of mindset development that our coaches support kids in learning and integrating into their lives:


W – Wire your mind for happiness, confidence and success in life MindPower
I – Identify who you want to be and what you want for your life with InnerPower
S – See your "inner superstar" and shine with MePower
D – Dream big, live with purpose, and make it happen with DreamPower
O – Overcome obstacles and go for it in life with Slaying Dragons
M – Managing the ups & downs of growing up with Slaying Dragons
Within these six areas, children learn practical skills to achieve true "wisdom" – having the power to overcome disappointments and achieve anything they want in life.
By using the WISDOM System for Coaching Kids™ and her coaching skills, certified WISDOM Coach™ Luvashnee helped facilitate just this kind of transformation with the sisters,
"The 5-year-old is now so talkative, she raises her hand to answer questions and has a new level of self-confidence. Her teacher called her Dad to ask him what the child was doing differently because she was seeing a new sense of self-confidence in her and the child was participating in class activities, with ease.
The 10-year-old started performing really well in the two subjects that she had been struggling in. I was thrilled when she brought her report to me and her grade moved from a C to a B!"
Learn even more about life coaching for kids and see other case studies in our free Special Report: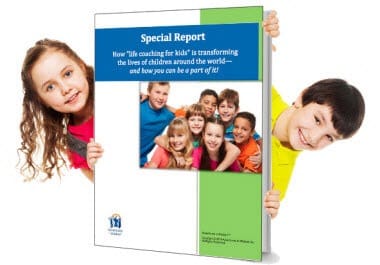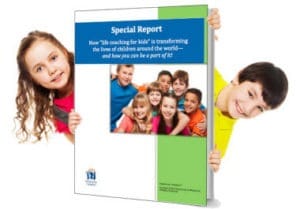 *** The end ***
Please share your comments below!
Adventure well, my friend!