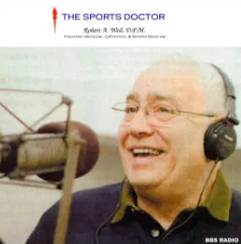 The Sports Doctor discusses life coaching for kids in this podcast interview with Renaye Thornborrow. They explore the impact of mindset and mental wellness on children's sports and lives.
Learn more about the interview and listen to the interview here. 
Topics with Timestamps from the Interview
Introduction
1:20 Give us some background on yourself and certifying coaches for children
2:30 – Dr. Bob – Kids in sport might get the mental game, but other kids don't
2:50 – What ages and why unique
3:30 – Why never been more needed – what Dr Bob is hearing and seeing in kids
4:20 – What is feedback from school and medical world to coaching?
5:30 – What's the cooperation from the teaching world?
6:30 – About Dr Bob's radio show
7:35 – Youth sport is a huge business, epidemic of overuse injury in young ages. What is the time commitment for kids to work with a life coach
8:30 – Do coaches touch base with the parents or families?
9:20 – What's the website? – AdventuresInWisdom.com – get free coaching story on developing positive self-talk
10:15 – How are we (society) doing with helping kids? And where coaching fits. Importance of mental health
11:35 – Why do you use stories and what are some of the skills kids learn?
13:10 – How much attention to the physical side? And benefits for athletes.
15:20 – Dr. Bob talks about the crisis in mental health for kids and Renaye discusses how coaching fits in the mental health solution
16:35 – Sports Doctor's new book on Sports Parenting
17:30 – Interview with Dr. Vicki Matthews
About The Sports Doctor
The Sports Doctor is in! Dr. Robert A Weil, Sports Podiatrist, specializes in orthotics that improve alignment, stability, balance & performance. He has practiced podiatry & sports medicine for over 30 years in the Aurora- Naperville area and was recently inducted into the prestigious 2019 National Fitness Hall Of Fame.
Dr. Bob has treated many of the world's premier athletes from all types of sports.
He is the host of "The Sports Doctor™" Radio Show. The show is now featured on BBS Radio Network, UK Health Radio Network & Sports 4 Fanz Radio.
Dr. Bob was formerly on HealthyLife Radio and was also on WDCB public radio in Chicago for over 20 years. He has written articles for many newspapers & magazines and is a frequent guest on other networks. And his new book, co-written with Sharkie Zartman, titled '#Hey Sports Parents! An Essential Guide for Any Parent with a Child in Sports' – is now available on Amazon!
Join the Sports Doctor and his great guests for important topical information for injury free exercise, wellness and sports performance for both adults and kids. Frequent topics include, the role of the foot in sports, all aspects of sports medicine including, proper sports shoes, youth safety, health, wellness, and sports performance for both adults and children.
How Kids Can Learn Mindset Skills – and 2 Ways You Can Help Them
Self-esteem, self-confidence, good decision making, resilience, and goal setting are all mindset skills that kids can learn for life.
Adventures in Wisdom is leading a worldwide movement to bring mindset skills, personal development and life coaching to kids.  Since 2013, we've certified hundreds of coaches in over 30 countries.
Kids learn 27 mindset skills – by either working with a certified child life coach (WISDOM Coach) or working with their parent in a home study course.
Learn everything you need to know about Life Coaching for Kids here.
1. Want to be a Life Coach for Kids?
You can create impact and income – working part time or full time – as a certified WISDOM Coach®.
You can get certified to use the Adventures in Wisdom Life Coaching for Kids Curriculum, where you'll use fun coaching stories, activities and a proven STORY Coaching process to teach mindset skills and life coach kids.
WISDOM Coaches use coaching stories and activities to help children develop mindset skills for confidence, resilience, self-esteem, self-leadership, and achievement so that they can be confident and prepared to handle the ups and downs of growing up, reach their fullest potential, and thrive.
To see what it's all about and learn how you can create a business you love as a life coach for kids, simply click below. You'll find everything you need to know, including how to apply and save.
2. Want to Find a WISDOM Coach for Your Child?
Simple click below to: 
Use the "Connect with a Coach" form or
Search the WISDOM Coach® Directory
Copyright (C) 2010 – 2022 Renaye Thornborrow.  All Rights Reserved.