"What have you done differently with this child?!"
Watch WISDOM Coach, Rahima, share her experience as a teacher during the pandemic and how she helped a young girl overcome social awkwardness and low self-worth.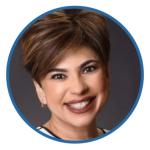 "I'd been coaching her for about four weeks, her mom had parent-teacher interviews…her mom was quite excited. She said her teachers were asking her, "Oh my goodness, what have you done differently with this child?" She was talking differently and walking differently, and she was trying things she normally wouldn't want to try. She was more loving to her family. She also noticed that she seemed to just like herself more. She was even making an effort to clean up her room… it's just amazing how we have the privilege to help these children change their lives and give them the tools they can use for the rest of their lives."
Rahima Khoja, WISDOM Coach
The mindset skills Rahima discusses in this video

:
WISDOM Coaches use stories, discussion and activities to help kids learn, understand and practice essential mindset skills kids will use throughout their school years and for life.
How your mind shapes your world – is taught with the story, "Who's Flying Your Plane?" Kids learn how their brain works and the power of limiting and supporting beliefs.

Self-esteem – is taught with the story "Yucky Me! Yahoo Me!" Kids learn what self-esteem is, how to develop it and do exercises to embed it

Self-talk – is taught with the story, "Choosing Your BFF (Best Friend Forever)". Kids learn what self-talk is, how to identify and shift negative self-talk and how to proactively develop positive self-talk. NOTE: This story and skill book is available for free. Request it here.

Honoring Your Uniqueness – is taught with the story, "The Sun, The Wind and The Rain". Kids learn to identify and honor what is unique about themselves and that the world needs the gifts that each of us has in order to work.

Self-confidence

– is taught through the story, "Canville and Cantville, a Tale of Two Towns". Kids learn how to stretch outside their comfort zone to build confidence to try something new.
"As WISDOM Coaches, what is absolutely wonderful is we create that safe space. We are able to teach them the tools to focus on a positive self-image, and that brings positive results in all areas of their lives. I came across this quote by Rita Pierson… "Every child deserves a champion, an adult who will never give up on them, who understands the power of connection, and insists that they become the best they can possibly be." And that's what we're here to do."
"…so valuable because kids aren't learning this [mindset skills] in school!"
"I don't say this very often, but I highly recommend what you're doing. It is so valuable, and it's so complete. That's what I love about it and, obviously, really effective."
Want to become a life coach for kids?
You can – and we give you everything you need!
Our coaches come from all walks of life and levels of experience working with kids – from teachers, counselors, and life coaches to moms and dads, sports coaches, health care workers and beyond!

We provide a certification program that gives you everything  you need to create a business you love life coaching kids.

Get certified in your own home, on your own time, at your own pace – and begin coaching is as little as two weeks!

And coach kids part time or full time, in person or online!
To learn more about what being a WISDOM Coach is all about, watch the Overview video.
Want to find a coach for your child?
Search the Directory or complete the form and WISDOM Coaches who believe they are a fit will respond
Watch other interviews from this video series, "Helping Kids Manage the Roller Coaster of the Pandemic"
These are the 5 episodes from the series, "Helping Kids Manage the Roller Coaster of the Pandemic – a panel discussion with 5 life coaches for kids".  Watch the other episodes here. 
"What have you done Differently with this Child?" (Rahima Khoja)
"Helping a Child Manage Friendship Changes at School" (Delia Rusu
"Learning to Manage Change Transforms Child's Behavior" (Judy Niewenhuizen)
"Child Embraces Self-responsibility and Respect" (Bwalya Penza)
"Helping a Child Manage Anxiety and Fear" (Inna Neal)
About Adventures in Wisdom®
Teaching kids how to use the power of their thoughts to create happiness, confidence, and success in their lives!