Can Kids Really Learn Mindset Skills for Life?
Yes!
Once a child learns how their brain works, how to use their mind as a tool to manage their thoughts and emotions, and how they always have the ability to choose and Power Shift their thoughts, they have skills they can use for life!
Here are three stories about kids who are thriving years after working with a WISDOM Coach®.
---
From Angry 10-year-old to Thriving High Schooler
In the video below, WISDOM Coach® Inna shares the impact of WISDOM Coaching on a 10-year-old boy, who is now a thriving high schooler – five years after she first coached him.
His brothers have learned mindset skills with Inna as well, and it's been transformational for the family. See his original success story article from 5 years ago here.
---
From Crippling Anxiety to School Captain just a Few Years Later
When a child struggles with anxiety, it affects the whole family. And this was the case with 7-year-old G whose anxiety was so severe that she couldn't go down the street to a restaurant with her mum, she struggled to attend school, and mum couldn't be away from her for more than two or three hours.
A few years later, here's a photo of G as she headed to school to give a speech for school captain.
Guess who was voted school captain…G!!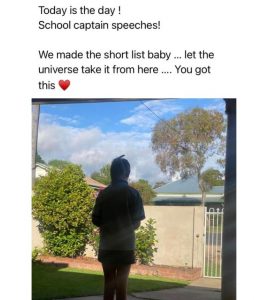 Watch WISDOM Coach Sharon share G's original story in the video below.   And read testimonials from mum in the original article here.
---
From Anxiety and OCD to Still Using Skills 2 Years Later
In the video below, WISDOM Coach® Dixie shares how she helped a 10-year-old boy who was struggling with anxiety and OCD. Two years later, he is still thriving and using the tools he learned.
---
Want to be a Life Coach for Kids?
You can create impact and income – working part time or full time – as a certified WISDOM Coach®.
You can get certified to use the Adventures in Wisdom Life Coaching for Kids Curriculum, where you'll use fun coaching stories, activities and a proven STORY Coaching process to teach mindset skills and life coach kids.
WISDOM Coaches use coaching stories and activities to help children develop mindset skills for confidence, resilience, self-esteem, self-leadership, and achievement so that they can be confident and prepared to handle the ups and downs of growing up, reach their fullest potential, and thrive.
To see what it's all about and learn how you can create a business you love as a life coach for kids, simply click below. You'll find everything you need to know, including how to apply and save.
---
Want to Find a WISDOM Coach for Your Child?
Simple click below to:
Use the "Connect with a Coach" form or
Search the WISDOM Coach® Directory
*** The end ***
Adventure well, my friend!
Copyright (C) 2011-2022 Adventures in Wisdom, Inc. All Rights Reserved.