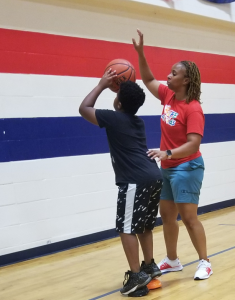 In recognition of National Coaches Day on October 6th,  Adventures in Wisdom is celebrating sports coaches who also became a life coach for kid – helping athletes to develop mindset skills and improve performance both on and off the court. Through life coaching, children develop mindset skills for confidence, resilience, self-esteem, respect, and achievement so that they can thrive in all areas of life.  
Attitude and Ability are NOT the Same Thing – in Sports and in Life
"Every sports coach has seen that attitude and ability are NOT the same thing. A great attitude can often trump ability when it comes to performance. It's not uncommon to see children with a lot of raw talent not achieve their goals and children with little raw talent – but a lot of drive – become superstars," said Renaye Thornborrow, founder of Adventures in Wisdom, a company that has certified hundreds of life coaches for kids (called WISDOM Coaches) in over 30 countries.  
She adds, "Just like a basketball coach helps children develop the skills, confidence, and ability to thrive on the basketball court, a life coach for kids helps children develop the skills, confidence, and ability to thrive in life. And when sports coaches add life coaching and mindset training to their work with athletes, the result is a win for life!"
Coaches Create a Positive Impact on Kids' Lives
93% of American parents think sports coaches create a positive impact on children's lives. When asked which life skills are most important to teach, 52% of parents say "Teamwork", 20% say "Perseverance", 15% say "Dedication", and 7% say "Leadership". *
What Three Sports Coaches Say about adding Mindset Skills to Coaching
Volleyball Coach and certified WISDOM Coach, Cindy Dugger shares how she used mindset training with her athletes, "At one of our practices, I had the players pair up with a partner, and gave them a piece of paper with 20 negative phrases that volleyball players often say to themselves. I set a timer and had them rephrase each statement into a positive statement that was affirming success.  This helped us tremendously throughout the season. The girls would correct themselves, or each other, if they heard something negative."
Basketball Trainer and certified WISDOM Coach, Deanna Thomspon shares "Being a Life Coach allows me to have the right conversation with athletes who lack confidence.  The stories give me the ability to relate life to the sport and situation at hand when I see the athletes getting discouraged.  I use the analogy of the autopilot and pilot alot when I see my athletes getting down on themselves and its helpful to use visualization as well."
Youth Cheerleading Coach and certified WISDOM Coach, Andrea DelPozzo shares, "I have been a Youth Cheerleading Coach for over 13 years and I became a life coach for kids because I saw a need for teaching children better mindset skills. I wanted to gain more knowledge on how I could better support kids in this area.  As a Coach I truly care about kids' happiness and success, and not only teaching cheer skills, but also life skills. Being a WISDOM Coach has helped me be a better cheerleading coach because I have more knowledge and skills to share with my athletes that will not only have a positive impact on them as individuals, but also for the team as a whole.  I incorporate team building exercises weekly and it teaches the kids to shift their mindset and focus on the positive aspects of one another." 
Read more about Cindy, Andrea, and other sports coaches who are bringing mindset skills and life coaching to their sports coaching work here. 
About National Coaches Day
National Coaches Day was established in 1972 when President Richard Nixon signed a proclamation declaring Oct 6 as National Coaches Day.  It states, "Coaches are highly qualified teachers – in highly specialized fields. But more than that, they are friends and counselors who help instill in their players important attitudes that will serve them all their lives."*
*https://nationaltoday.com/national-coaches-day/
1. Want to be a Life Coach for Kids?
You can create impact and income – working part time or full time – as a certified WISDOM Coach®.
You can get certified to use the Adventures in Wisdom Life Coaching for Kids Curriculum, where you'll use fun coaching stories, activities and a proven STORY Coaching process to teach mindset skills and life coach kids.
WISDOM Coaches use coaching stories and activities to help children develop mindset skills for confidence, resilience, self-esteem, self-leadership, and achievement so that they can be confident and prepared to handle the ups and downs of growing up, reach their fullest potential, and thrive.
To see what it's all about and learn how you can create a business you love as a life coach for kids, simply click below. You'll find everything you need to know, including how to apply and save.
2. Want to Find a WISDOM Coach for Your Child?
Simple click below to: 
Use the "Connect with a Coach" form or
Search the WISDOM Coach® Directory
Copyright (C) 2010 – 2022 Renaye Thornborrow.  All Rights Reserved.