There is a gap in children's mental health and a solution that most people aren't aware of.
It's time to spread the word, stop the suffering, and empower our children to be confident and prepared for life. 
And everyone can be part of the solution!
Meet Mike… 
Ten-year-old "Mike" was having trouble controlling his emotions — especially anger and rage. Teachers also reported that Mike seemed depressed at school and was distancing himself from other children. He often fought with his brothers, leaving his mom feeling upset with her son and feeling helpless as a parent. Mike's parents were stressed, emotional, and the family was on edge.
Children Don't have the Tools 
When faced with challenges and disappointments, most children don't have the tools to handle them. As a result, children can get down on themselves which crushes self-esteem, or they can give up on themselves which crushes self-confidence.
Life events can "wound" children and most of the time their parents don't realize it. Parents might see a shift in their child's confidence or self-esteem, but they don't know what happened or what to do about it. Children often suffer in silence.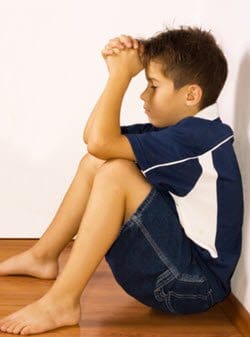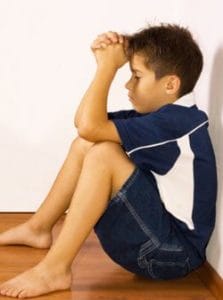 Too Many Children are Struggling
Did you know that:
Depression and anxiety doubled during the pandemic, with 25% of youths. experiencing depressive symptoms and 20% suffering anxiety symptoms.[1]
Cases of self-injury and suicide increase 45% in the first half of 2021.[2]
44% of high school students feel persistently sad or hopeless (75% in the LGBT community and 56% of females).[3]


16% of youth (12-17) report suffering from at least one major depressive episode in the past year (2022) [4]
And it's not just a challenge in the United States. A fact sheet on adolescent mental health from the World Health Organization in November 2021 revealed that 1 in 7 children between the ages of 10-19 experiences a mental disorder, accounting for 13% of the global burden of disease in this age group.
Calling for New Solutions
In December 2021, the U.S. Surgeon General, Vivek H. Murthy, released a rare Surgeon General's Advisory report warning that the challenges that today's youth are facing are unprecedented, the impact on youth mental health is devastating, and that "in many cases they are treatable, and often preventable".
This followed an equally rare statement by three U.S. pediatric organizations declaring children's metal health a national emergency and calling for new "strategies to meet these challenges through innovation and action … to improve the access to and quality of care across the continuum of mental health promotion, prevention, and treatment."[4]
Filling the Gap in the Mental Health Continuum
The mental health continuum spans across awareness, prevention, and treatment; however very little attention is given to awareness and prevention – creating a gap in children's mental health.
Life coaching for kids fills this gap and is a solution that most parents aren't aware of.

Whereas counselors tend to focus on mental illness and diagnosing and treating children who are struggling to function in day-to-day life, life coaches focus on awareness and prevention through mindset development – helping children proactively develop resilience and coping skills so that they can navigate uncertainty and change in their lives. Life coaching also helps children develop mindset skills for self-esteem, confidence, self-leadership, achievement, and happiness.
Download the infographic – How Child Life Coaching & Counseling BOTH Support Children's Mental Health.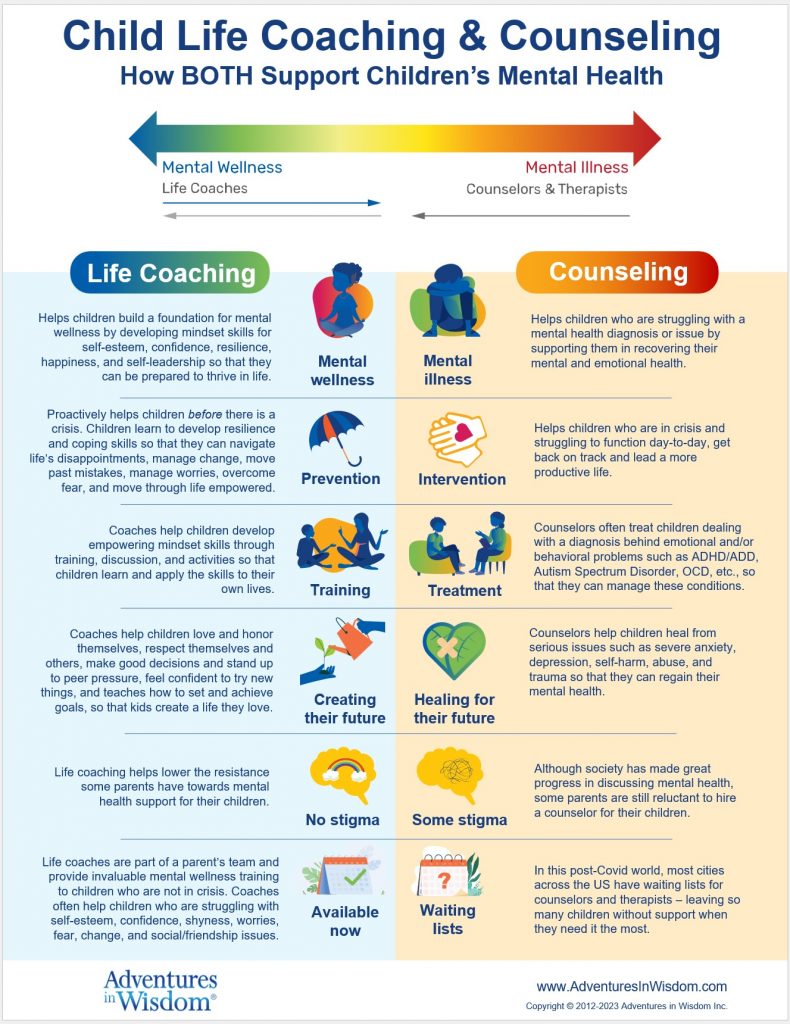 How Life Coaching Helped Mike
Mike was in trouble and the family was suffering. Wanting to help her son, Mike's mother reached out to a Certified WISDOM Coach® Inna Neal.
Inna worked with Mike to help him understand how his thoughts shape his experiences of himself and of his life and what he could do to shape his thoughts.
Using coaching stories and activities from the Adventures in Wisdom Life Coaching for Kids Curriculum, Mike worked with WISDOM Coach® Inna on developing mindset skills for shifting his thinking, developing positive self-talk, respecting himself and others, expressing gratitude, and so much more.
After just a few weeks of working together, Mike was a new person. He was happier, more confident, and expressed positive thoughts about himself.
Mike shared his big breakthrough, "I discovered that I am in control of my feelings ─ not anyone else. This makes me feel in control of myself. How I talk to myself and think about myself is up to me. If I think bad things about myself, I feel bad about myself. If I think nice things about myself, I can shift my anger and feel happier."
5 years later, Mike is now a happy highschooler. His brothers also learned to build these mindset skills and his whole family transformed.[5]
How Can You Help Close the Gap?
Everyone can be part of the solution and help close the gap in children's mental health.
Here's how you can help:
1.Help raise awareness!  If you know a parent who is looking for support for their child – maybe the child is struggling a bit with shyness, self-esteem, confidence, or a big change in their life. Or if their child is facing a big challenge or goal, let them know that life coaching for kids can support their child in navigating the situation, going for it in life, and becoming who they were meant to be in the world.
Share this Parent Checklist with them and they'll know within a minute whether life coaching might help their child. Download the Parent Checklist here.
2.Get involved yourself by becoming a life coach for kids! Are you someone who is great with children, or do you know someone who is great with children? Let them know that life coaching for kids is a very fulfilling profession that enables them to empower children while having complete flexibility over their career! Coaches choose whether they want to coach part time or full time, if they want to work in person or online (of both), if they want to work with children one-on-one, in small groups, or in workshops.
Life coaching isn't just for grownups! It's a game changer for our children when they learn how to use the power of their thoughts and the power of their mind to develop mindset skills for resilience, self-esteem, confidence, and self-leadership so that they can be confident and prepared to navigate the ups and downs of growing up and thrive! 
Learn more about getting certified as a Life Coach for Kids. 
.
[1] https://www.hhs.gov/sites/default/files/surgeon-general-youth-mental-health-advisory.pdf
[2] https://www.childrenshospitals.org/news/newsroom/2021/12/sound-the-alarm-for-kids-raises-awareness
[3] https://www.theatlantic.com/newsletters/archive/2022/04/american-teens-sadness-depression-anxiety/629524/
[4] https://www.aap.org/en/advocacy/child-and-adolescent-healthy-mental-development/aap-aacap-cha-declaration-of-a-national-emergency-in-child-and-adolescent-mental-health/
[5] https://adventuresinwisdom.com/mike-learns-to-shift-his-anger-through-positive-self-talk-for-kids/
Want to be a Life Coach for Kids?
You can create impact and income – working part time or full time – as a certified WISDOM Coach®.
You can get certified to use the Adventures in Wisdom Life Coaching for Kids Curriculum, where you'll use fun coaching stories, activities and a proven STORY Coaching process to teach mindset skills and life coach kids.
WISDOM Coaches use coaching stories and activities to help children develop mindset skills for confidence, resilience, self-esteem, self-leadership, and achievement so that they can be confident and prepared to handle the ups and downs of growing up, reach their fullest potential, and thrive.
To see what it's all about and learn how you can create a business you love as a life coach for kids, simply click below. You'll find everything you need to know, including how to apply and save.
Want to Find a WISDOM Coach for Your Child?
Simple click below to:
Use the "Connect with a Coach" form or
Search the WISDOM Coach® Directory
*** The end ***
Adventure well, my friend!
Copyright (C) 2011-2022 Adventures in Wisdom, Inc. All Rights Reserved.