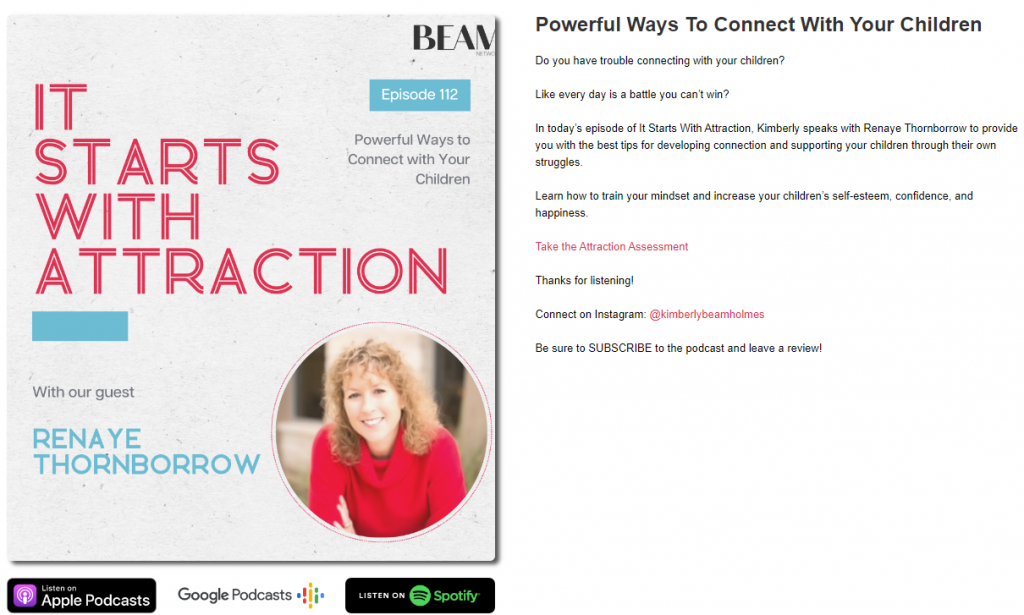 Hear powerful ways to connect with kids and learn subtle signs a child may be struggling with their mental health in this important conversation between "It Starts with Attraction" host, Kimberly Beam Holmes and Adventures in Wisdom Founder, Renaye Thornborrow.
Learn more about the interview and listen to the interview here. 
Topics with Timestamps from the Interview
Powerful Ways To Connect With Your Children with Renaye Thornborrow (buzzsprout.com)
2:30 – What led you to get started in wanting to do work with kids, especially in this mindset, teaching them skills on how to be happier, more resilient.
4:55 – What issues are you and your coaches seeing going on with kids right now?
7:38 – What are some of the more subtle signs that parents can look out for in their kids, that might indicate a risk to mental health or wellbeing?
11:10 – What is the coaching experience like for kids? What does a life coach for kids do?
12:33 – Other than the pandemic and things that we've been through the past two years, what are some of the other things that can really affect a child?
13:57 – Can you share with us one of the mindset skills you teach children? How would you teach it to a child and how might they apply it to their life?
17:58 – What would you say to a parent in a home separation or divorce situation? Or perhaps a major illness in the family – something that is affecting children? What would you say to a mom or a dad if they're struggling to focus on their child because they're so focused on something else?
19:43 – How important is it for kids to have routine so to have a set schedule or kind of be able to predict what a day is going to look like?
20:30 Lunch Box Notes – keeping this as part of their daily conversation?
25:35 – Let's talk about the effect of social media on kids.
30:16 – Final tip you can take action on today to help you and your relationship with your kids
33:03 – Kimberly's key PIES takeaways about connecting with your children
How Kids Can Learn Mindset Skills – and 2 Ways You Can Help Them
Self-esteem, self-confidence, good decision making, resilience, and goal setting are all mindset skills that kids can learn for life.
Adventures in Wisdom is leading a worldwide movement to bring mindset skills, personal development and life coaching to kids.  Since 2013, we've certified hundreds of coaches in over 30 countries.
Kids learn 27 mindset skills – by either working with a certified child life coach (WISDOM Coach) or working with their parent in a home study course.
Learn everything you need to know about Life Coaching for Kids here.
1. Want to be a Life Coach for Kids?
You can create impact and income – working part time or full time – as a certified WISDOM Coach®.
You can get certified to use the Adventures in Wisdom Life Coaching for Kids Curriculum, where you'll use fun coaching stories, activities and a proven STORY Coaching process to teach mindset skills and life coach kids.
WISDOM Coaches use coaching stories and activities to help children develop mindset skills for confidence, resilience, self-esteem, self-leadership, and achievement so that they can be confident and prepared to handle the ups and downs of growing up, reach their fullest potential, and thrive.
To see what it's all about and learn how you can create a business you love as a life coach for kids, simply click below. You'll find everything you need to know, including how to apply and save.
2. Want to Find a WISDOM Coach for Your Child?
Simple click below to: 
Use the "Connect with a Coach" form or
Search the WISDOM Coach® Directory
Copyright (C) 2010 – 2022 Renaye Thornborrow.  All Rights Reserved.