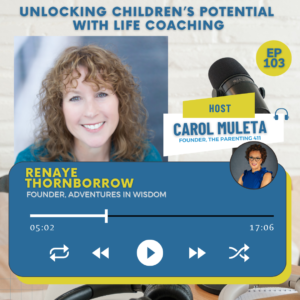 Prepare to be inspired by this 20-minute conversation about helping kids unlock their potential.  The Parenting 411 host, Carla Muleta,  interviews Adventures in Wisdom Founder, Renaye Thornborrow.
Listen to the interview on Apple Podcast
Topics with Timestamps from the Interview
Carol Muleta's introduction – a podcast that shares "information parents need from sources they can trust." 
2:00 – People know about life coaching for ADULTS. Why life coaching for KIDS and how is it different?
5:00 – How did Renaye get inspired to create the curriculum to bring mindset skills and life coaching to kids?
7:00 – How is child life coaching different from counseling?
8:00 – What does a child life coaching session look like?
11:45 – In this world of technology, how well do children engage with coaches?
14:00 – The impact of social media on self-esteem
14:45 – Example of how life coaching has helped kids
18:00 – Why parents need to not rescue their kids
18:45 – How can parents find a coach for their child? WISDOM Coach – Connect with a Coach Program
20:30 – How can parents experience the curriculum at home? – Get a free coaching story about Self-talk
29:00 – How to learn more and get a free coaching story on Positive Self-talk
About The Parenting 411 Podcast
When it comes to parenting, "the days are long, and the years are short." You treasure the journey, but when chaos erupts you need solutions. That's where we come in. We deliver information parents need from sources they can trust. You'll hear from authors, educators, and other professionals who bring knowledge and compassion in service of their calling to help parents and children thrive.
How Kids Can Learn Mindset Skills – and 2 Ways You Can Help Them
Self-esteem, self-confidence, good decision making, resilience, and goal setting are all mindset skills that kids can learn for life.
Adventures in Wisdom is leading a worldwide movement to bring mindset skills, personal development and life coaching to kids.  Since 2013, we've certified hundreds of coaches in over 30 countries.
Kids learn 27 mindset skills – by either working with a certified child life coach (WISDOM Coach) or working with their parent in a home study course.
Learn everything you need to know about Life Coaching for Kids here.
1. Want to be a Life Coach for Kids?
You can create impact and income – working part time or full time – as a certified WISDOM Coach®.
You can get certified to use the Adventures in Wisdom Life Coaching for Kids Curriculum, where you'll use fun coaching stories, activities and a proven STORY Coaching process to teach mindset skills and life coach kids.
WISDOM Coaches use coaching stories and activities to help children develop mindset skills for confidence, resilience, self-esteem, self-leadership, and achievement so that they can be confident and prepared to handle the ups and downs of growing up, reach their fullest potential, and thrive.
To see what it's all about and learn how you can create a business you love as a life coach for kids, simply click below. You'll find everything you need to know, including how to apply and save.
2. Want to Find a WISDOM Coach for Your Child?
Simple click below to: 
Use the "Connect with a Coach" form or
Search the WISDOM Coach® Directory
Copyright (C) 2010 – 2023 Renaye Thornborrow.  All Rights Reserved.